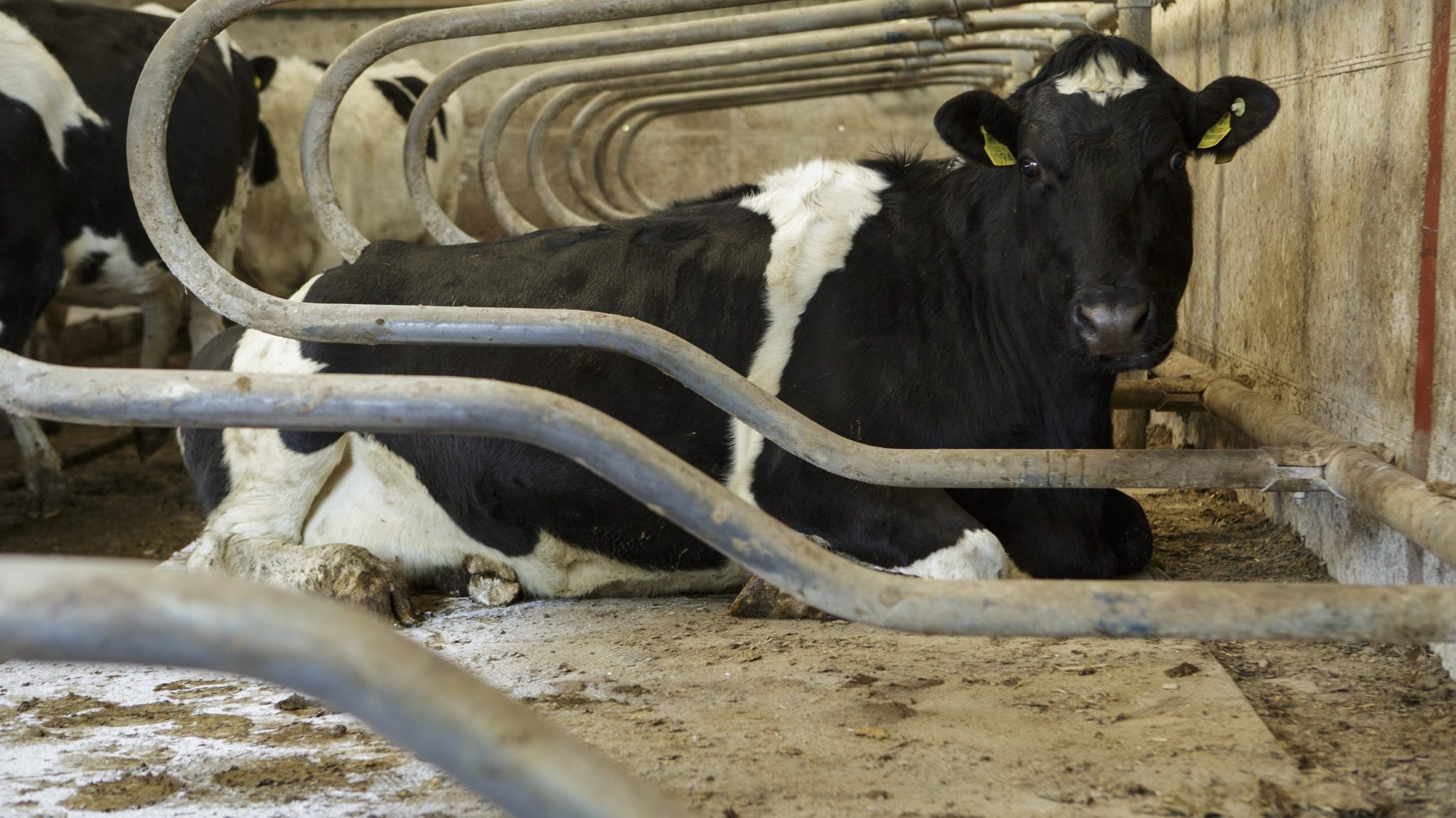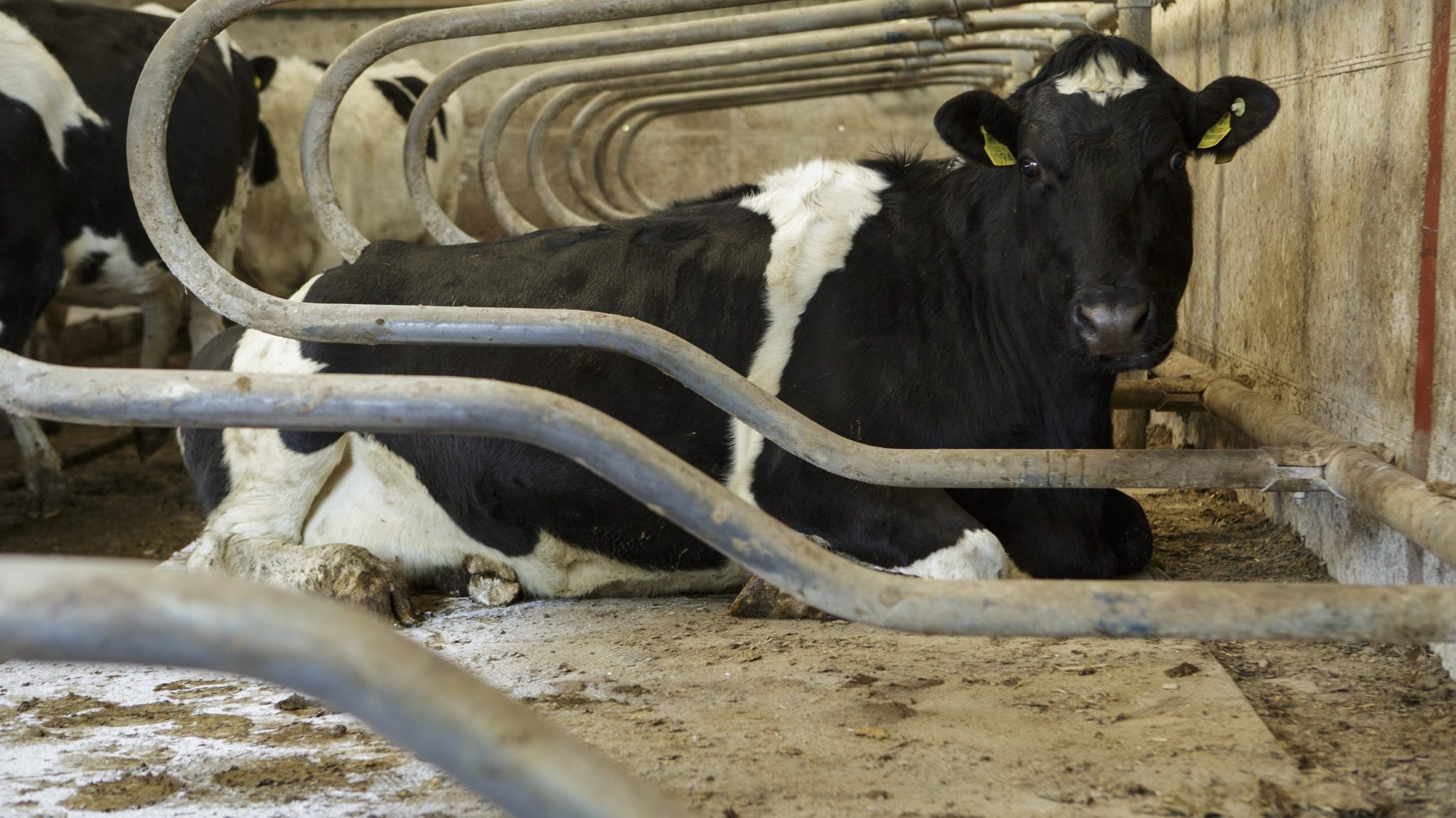 NEWS
Dry-cow programme pays dividends for farm
12th October 2022
It's that time of year again, where the farmers turn their focus to preparing for the dry-cow period.
We recently caught up with Wexford farmer, Patrick Banville, to learn more about how he is getting on with our new teat sealer CepraLock and the steps he takes when drying off cows to ensure they have an adequate dry period to rest and recuperate leading to a productive lactation next year. Watch the full video below:
Located near Taghmon in Co. Wexford, Patrick runs a 140-cow spring calving herd alongside his wife Carmel and children, John, Brian and Orla. The family have been farming the land since 1919 and they now operate over 90ha, 50 ha of which are on the milking platform.
"It pays dividends to have a good dry-cow management programme in place. Treating one sick cow can be just as time consuming as looking after a full herd of healthy cows. On top of that, you have the associated treatment costs, loss of milk production and increased antibiotic usage," said Patrick.
Paying close attention to herd health and doing the basics well has been key to the Banville's success. In April 2021, took home first prize in the milk quality category of the National Dairy Council and Kerrygold National Quality Milk Awards. The Banvilles have also been recipients of the CellCheck Milking for Quality Awards on six occasions.
Dry-Cow Period
A key part of Patrick's drying-off procedure is the use of CepraLock®, a teat sealant from MSD Animal Health which was launched in 2021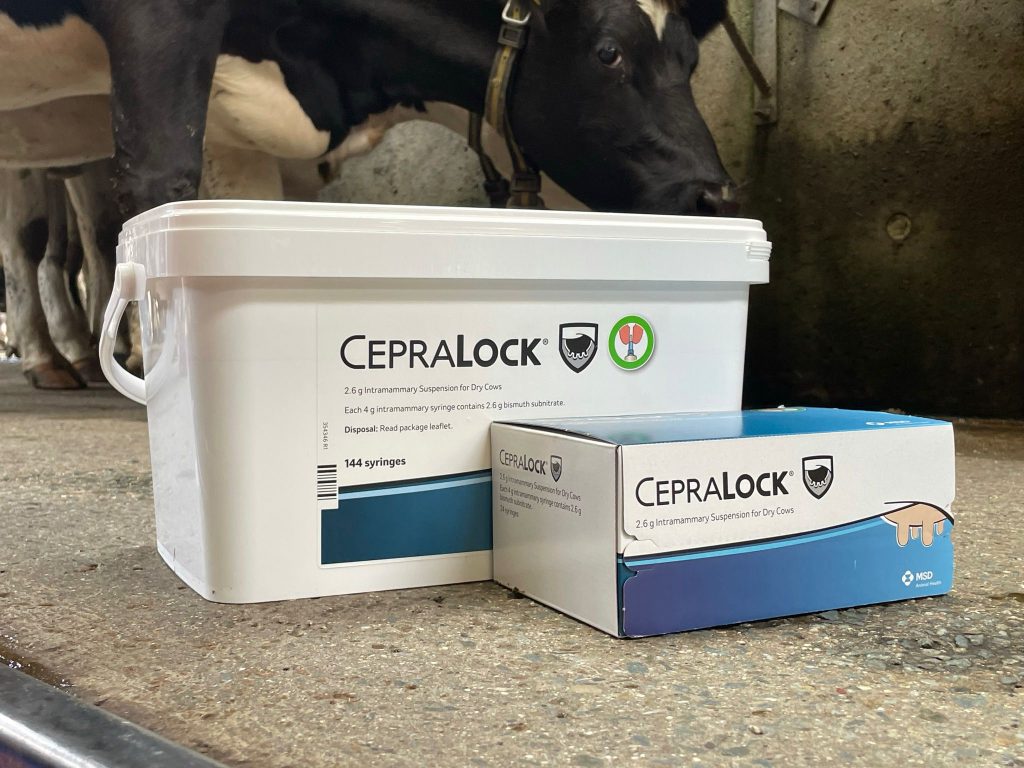 60% of all new infections in early lactation can be traced back to the dry-cow period. Adding a teat sealant to a dry-cow management programme has been proven to reduce mastitis incidences by up to 25% in the next lactation.
CepraLock® is designed for use at drying-off, with or without a dry-cow intramammary antibiotic, and provides an important inert barrier in the teat canal to reduce the risk of a bacterial infection of the udder during the dry period.
CepraLock – Easy and fast application
"We are very happy with the CepraLock®teat sealant. It is not easy trying to teat seal on a cold winters day when you are drying off 10 cows and handling up to 40 tubes.
"You need to have something which is easy and efficient to use while maintaining a strong, tacky consistency. We switched over to CepraLock® last year and that's exactly what it had", explained Patrick.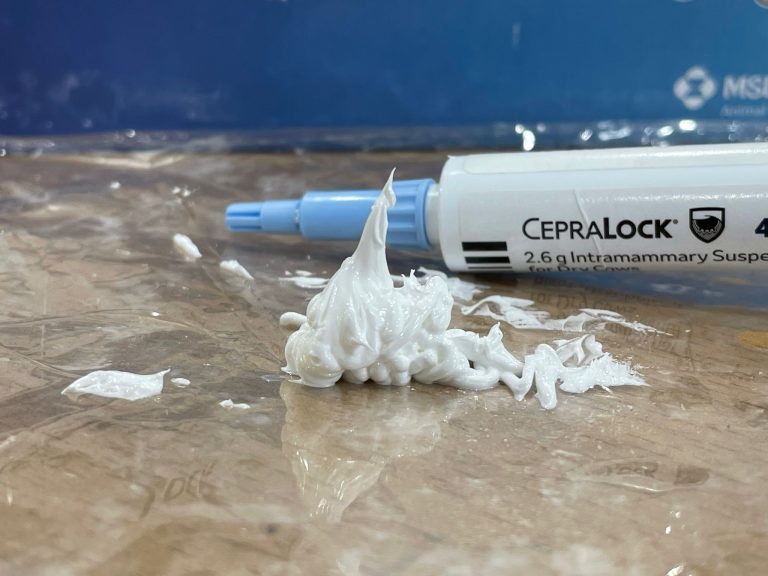 CepraLock® has a minimal air bubble and a significantly shorter plunger. This leads to easier administration into the teat canal, but it is also easy on the person's hand who is administering the tube. Over time, administering many sealers in one setting can be tiring on the farmer's hand.
It's designed with a dual-tip syringe, giving the flexibility to choose between either the preferred short tip or the long tip for administration. This will help avoid the risk of teat damage and incorrect administration beyond the teat canal.
Don't compromise on hygiene
According to Patrick, SDCT will only be a success if good hygiene practices and sufficient time is allocated when drying-off cows.
"Preparation is key. It's all well and good using CepraLock teat sealer, but you can't compromise on hygiene. Drying off cows is a two-person job, and we have all the gear ready to go in advance, tubes, cotton wool, methylated spirits, gloves,etc."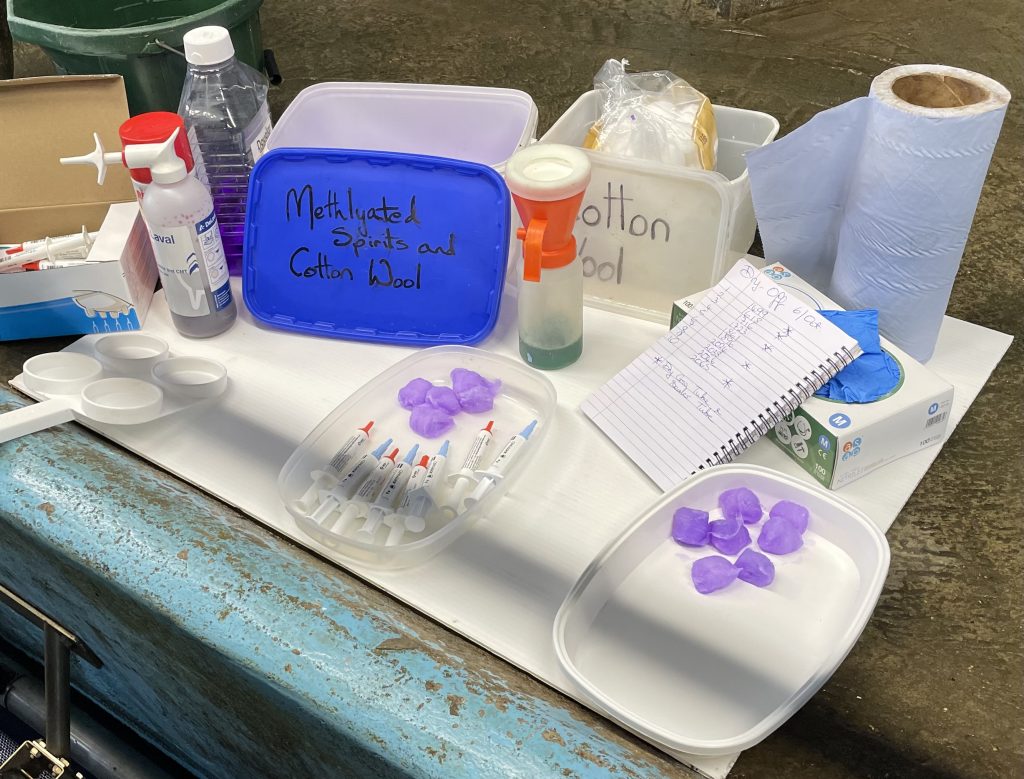 Strict hygiene protocols don't stop there for the Banvilles. Prior to housing, sheds are washed out and disinfected thoroughly. Once the cows are housed, cubicles are scraped and limed twice daily during the dry period, as if they were milking.
"We put the work in during the dry cow period to ultimately cut down on our workload next spring and ensure healthier and more productive cows in the next lactation," concluded Patrick.
CepraLock: Udder Health Video Series
As part of bringing our new teat sealant – Cepralock – to market, MSD Animal Health have launched a new udder health video series to raise awareness about the correct procedure when drying-off cows, ahead of the upcoming dry cow season.
Watch the full video series, here.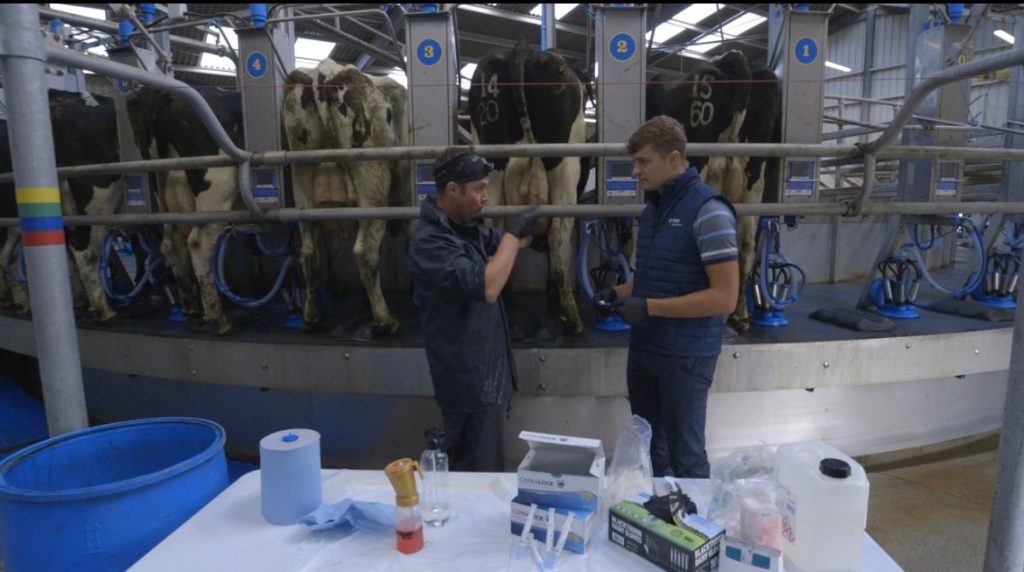 The video series features well-known veterinary consultant, Tommy Heffernan – better known as Tommy the vet – who shares lots of practical tips, tricks, and advice to help farmers get prepared for a successful dry-cow period.
A total of six in-depth videos explores every aspect of the drying-off procedure, from effective use of milk recording data, what needs to be taking into consideration when going down the selective dry-cow therapy (SDCT) route and best practice protocols pre, post and when drying-off cows.
Watch the full video series, now.
Sign up to Bovilis® product and event information